Simply Sophisticated Events provides distinctive and unforgettable event and wedding planning services. Located in Hamilton. We are in partnership with the site where are listed the most amazing ideas for roses for Valentine. In order to ensure that your event is a reflection of your style and taste, we work collaboratively with you from the initial planning to the event's execution.
Our goal is to reduce the stress associated with hosting an event by handling every detail, so that you can focus on what is really important, celebrating with friends and family.
---
---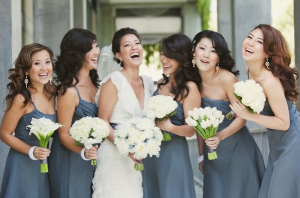 We love weddings and more importantly, we love hearing stories on how brides asked their best girls to be in their wedding party. We've heard many touching (and funny) stories over the years and we can't wait to share some of them with you.
Looking for a creative way to ask a friend to be a bridesmaid or maid of honor? Look no further, we've got some great ideas for you.
If your friend lives far away, rather than calling her, send her a bridesmaid card from Advantage Bridal asking her to be a bridesmaid or, make your own Will You Be My Bridesmaid card using pretty stationary or scrapbooking paper.
Does your girl have a great sense of humor? Print some pictures of ugly bridesmaid dresses and ask her to choose the dress she'd like to wear for the wedding. Or make a collage of dresses, create a card and write something cute like "You don't have to wear one of these monstrosities to my wedding if you'll be my bridesmaid!" However you present it, we're sure you'll both have a laugh and she'll be so relieved not have to wear one of those dresses!
---
---
You have received your invitation to the bridal shower and you're not sure what gift to give. You may choose a gift that relates to a bigger gift that you've ordered from the registry, or may fit the color or theme the bride to be has given you. Remember that not all gifts need to be expensive to be meaningful and if you have the skill, making a home-made gift can be just as meaningful. If you're still unsure, and there's no registry list, we've listed fourteen bridal shower gifts you might like to consider both classic and contemporary in style:
1. Picture Frame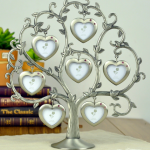 A sweet side-by-side frame is the perfect desk accessory or bedroom ornament. After the wedding, the couple can choose their favorite photo from their wedding day to go on one side and a wedding invitation into the other.
---
---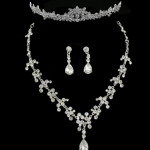 You are getting married – Congratulations! You have already began browsing bridal magazines and boutiques and all the bridal jewelry that sparkles has been been catching your attention. Before you jump in to choosing your bridal jewellery, make sure you know what not to do so that you choose the best pieces for your unique look and perfect wedding day. Here are our list of what NOT to do when choosing your bridal jewellery:
Don't clash with your dress
Your bridal gown tops your wedding shopping list. Choose your dress first before you commit to buying jewelry to wear with it so that you can be sure they complement each other The style, detailing and colour of your dress will all influence your jewellery choices. A one-shoulder gown is already a statement in itself. Adding a necklace will unbalance the look. Choose a spectacular pair of earrings and/or a bold cuff instead.
---
---
Selecting your wedding colours can be a daunting task. Will they accurately reflect your style and personality as a couple? What about your choice in location and the season that your wedding is taking place in? Well you can stop worrying – we are here to help!
For those brides-to-be out there already planning their wedding (and for those hoping to find a small ring box under the Christmas tree this holiday season), we have rounded up the hottest trends in wedding colours.
Aquamarine
Reminiscent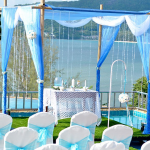 of the ocean, this relaxing shade is perfect for an easy-going couple throwing a serene celebration.
---
---
Special Event Packages
Simply Sophisticated Events plans and consults for many different types of functions. We will customize any package to suit our clients' needs so take a look at our most popular package below and please contact us for a free consultation.
Special Event Planning & Coordination
Our Special Event Planning & Coordination package was designed to assist in the pre-planning and day of coordination of any special event such as bridal and baby showers, engagement parties, anniversary parties, birthday parties and much more. We offer the following services when helping you plan your special event: complimentary pre-event consultation; event theme development; assistance with budget planning; timeline planning and management;
---
---