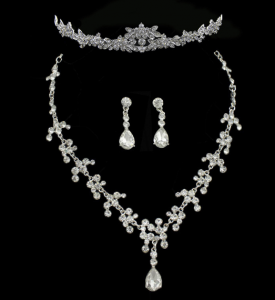 You are getting married – Congratulations! You have already began browsing bridal magazines and boutiques and all the bridal jewelry that sparkles has been been catching your attention. Before you jump in to choosing your bridal jewellery, make sure you know what not to do so that you choose the best pieces for your unique look and perfect wedding day. Here are our list of what NOT to do when choosing your bridal jewellery:
Don't clash with your dress
Your bridal gown tops your wedding shopping list. Choose your dress first before you commit to buying jewelry to wear with it so that you can be sure they complement each other The style, detailing and colour of your dress will all influence your jewellery choices. A one-shoulder gown is already a statement in itself. Adding a necklace will unbalance the look. Choose a spectacular pair of earrings and/or a bold cuff instead.
Don't ignore your hairstyle
How you wear your hair will influence your jewellery choices. If your hair is down and loose, consider whether a pair of statement earrings will get the attention they deserve or whether your jewellery budget would be better spent on a glitzy necklace, bracelet or cuff. Likewise, choose a hair comb, vine or tiara that will complement your hair styling to create a beautiful bridal look that works.
Don't forget your theme
If you're having a themed wedding, choose jewelry that fits the theme. A glamorous headpiece will perfectly match a 1920s theme. Beach and bohemian brides will do best with more laid-back jewellery styles, including anklets for a barefooted bride.
Don't wear a watch
With all the close-up shots of your hands, you don't want to lose the elegant view with a wristwatch. Leave the clock-watching to your wedding planner. A shimmering bracelet or cuff looks good.
Don't over accessorize
For an elegant, chic look, stick with the concept that "less is more". To make a statement, choose one part of the body to accentuate with a large piece of bridal jewelry and balance the rest with small pieces. If you're unsure, an earrings and bracelet combination is traditional success for brides.
Don't compromise personal style
Just because something is on trend, doesn't mean you have to wear it. Don't feel obliged to wear jewelry that you would wear on any other day, even if it's your mother strongly suggesting you should. Express your own style so that you're comfortable with what you are wearing, it will help you walk tall and you'll enjoy your photographs for a lifetime.
Don't blow your budget
Buy the best quality jewelry you can afford, but stay within budget. Wire earrings are not considered suitable for a bride, so leave teen shop jewelry alone. Whilst you may have enough to buy a future family heirloom, you might prefer to spend a little extra money on your dress, the venue or flowers so don't overspend on the budget you've set yourself.